Sat, December 15, 2012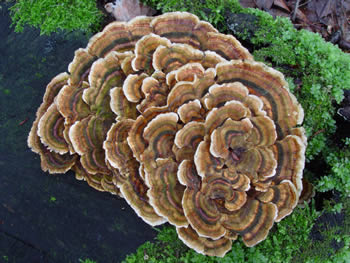 I harvested Trametes versicolor or Turkey Tail in early November. This is the first time I've made a tincture of Trametes and I'm really looking forward to getting familiar with its medicine.
Trametes has been calling to me for at least the last 3 years, and this year I made the commitment to harvest it. I've been hesitant to harvest Trametes for two reasons. Firstly, because I already harvest at least 150 different herbs and adding more to my apothecary is not something I do lightly! And secondly, because Trametes is so light and airy I thought it would be a gruelling process that would take ages of concentrated patience. I already have several herbs that fit that description and wasn't eager to add another. When a plant (or in this case a fungus) calls out to me or catches my eye, I know I'm being given medicine for an important reason and I'm expanding as a healer. So, quite frankly, all my machinations are for naught and I always do as I'm instructed. So, off I went to harvest Trametes, prepared for hours of patient harvesting, and I was pleasantly surprised! I found several large logs that were totally covered with Trametes and it only took me a short while to get enough to make 1½ litres of tincture.
Trametes versicolor is called Turkey Tail because it looks like a wild turkey's tail...simple! Trametes is a polypore mushroom and a decomposer of wood. It recycles the nutrients and minerals in the wood of fallen trees, making them available to other forest inhabitants. It is one of the fungi that are being investigated for possible use in 'biopulping' which involves using a fungus to convert wood chips to paper pulp while reducing energy use and pollutants. Nice.
Medicinal Properties: Adaptogen, antibacterial, antifungal, antimalarial, antimicrobial, antineoplastic, antioxidant, antiviral, antihepatotoxic, hypocholesterolemic, hypolipidemic, immune tonic.
Trametes is a very deep acting medicine that is great for anyone with a compromised immune system. It increases the adaptive response of the immune system to all types of stressors. It is used for several different kinds of cancers such as cervical, breast, lung, stomach, liver, colon, prostate, esophageal cancers, etc. It is also used for all manner of chronic diseases. It is used for hepatitis B and C; malaria; impetigo; infection and inflammation of the upper respiratory tract, the urinary tract and the digestive tract; lupus; viral infections of any kind including genital herpes and HIV; and chronic fatigue.
The ISRN Oncology Journal recently published a study entitled "Phase I Clinical Trial of Trametes versicolor in Women with Breast Cancer" demonstrated that Trametes is an effective adjunct to conventional chemotherapeutic medicines and radiation therapy for breast cancer.
Trametes isn't the tastiest mushroom around. Its flavour is rather bland and ever so slightly mushroomy, but it can be added to soup stock to make a nutritious, immune boosting soup.
Right now my Trametes versicolor tincture is macerating in my apothecary and should be ready to use in a few months. I'm very excited to start working with it and deepening my understanding of this powerful, local medicine.
If you aren't all stoked yet about the power and importance of fungus, please watch this excerpt from the feature documentary, "Fantastic Fungi: The Forbidden Fruit", by Louie Schwartzberg on mycologist Paul Stamets as he discusses the important role mushrooms play in the survival and health of the earth and the human species.